2:05 pm
[d_morris]

Heroes Con 2008
At Heroes Con 2008 I did not get as many Godzillas as I did at SPX but I will say that I got a lot from people who I wanted to see draw Godzilla. So here are all of the Godzilla sketches that I got at the convention this year.
4:12 am
[d_morris]

Alright here is the second round of SPX sketches that I got of the mighty King of Monsters
(
Images
Collapse
)
6:52 pm
[d_morris]

Sketches from SPX 2007 part 1
When I went to SPX this year, I also brought with me the Godzilla sketchbook. I was kind of nervous about asking people when I went to Heroes Con and that's why I only had one sketch. However after seeing some awesome sketchbooks with themes like Jacob Covey's Teenage Mutant Ninja Turtles sketchbook or Sean Collins' David Bowie book, I knew that artists would be up for the challenge of getting the chance to draw Godzilla. So when I went to SPX, I went wanting to come back with a lot of sketches. So here is the first batch of sketches I got while at SPX because I got alot.
(
Images
Collapse
)
6:45 pm
[d_morris]

The first drawing in the sketchbook from Heroes Con '07
This is the first image that was ever put into the Godzilla sketchbook. This is by Paul Hornschemeier, the cartoonist behind The Three Paradoxes, a book that's utterly fantastic. I got him to draw this at Heroes Con in June of 2007. He also set the prescendent for most artists not using reference for Godzilla in these sketches. I realized pretty early on that I'd much rather have someone's interpretation of him instead of an exact copy though if any artist wants it, I'm not going to complain.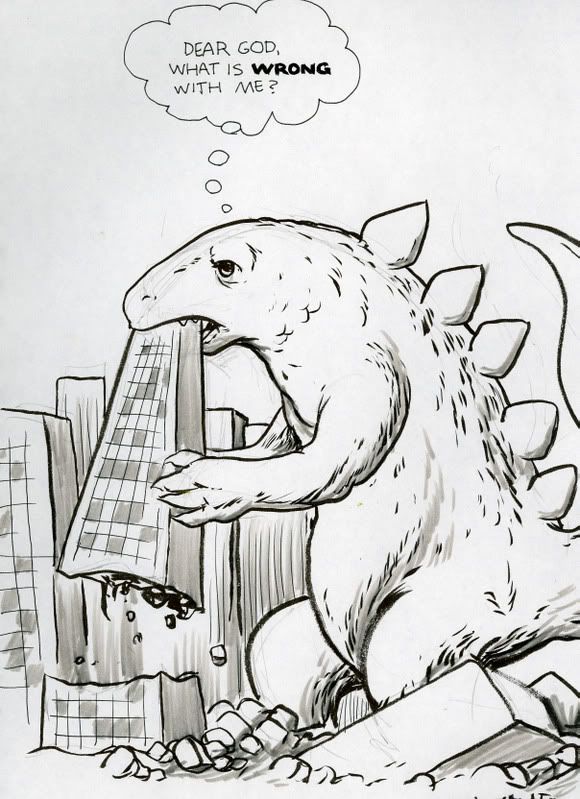 And interesting story about this is that Paul Hornschemeier admitted to me that one of the first comics he ever read was the 70s Marvel Godzilla series.
6:37 pm
[d_morris]

The purpose of the Godzilla sketchbook
The Godzilla sketchbook is a sketchbook that I take to conventions with me. I get artists to draw Godzilla. I am not picky as to if it's an accurate representation of Godzilla. I only care that it is the artist's representation of the King of Monsters. Hopefully I get something interesting out of it and pretty much always I'm guaranteed to be pleased.